All workshops, seminars and classes are held at the Elila Center Studio, Upper Level, Suite 209.
430 Springfield Avenue, Suite 209, Berkeley Heights, NJ.
7-Week Meditation Class: Journey Through the Chakras
July 1 - August 12, 2015

Chakras is Sanskrit for "wheel" or "turning". These turning wheels
are like energetic motors that run from the base of your spine
all the way to the top of the head. Symptoms occur when
the energy center is blocked, going backwards or stopped.
Symptoms may be manifest as attitude, behavior and even physical pain.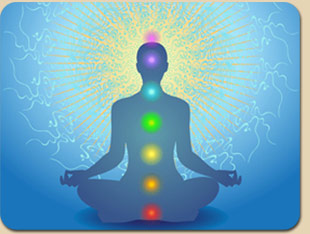 Are you ready to release anger, anxiety, depression and fear?
In this innovative 7-week class, Andrea combines, movement, meditation and self-inquiry to bring peace and clarity to various areas of every day life that are governed by each chakra.
Learn practical tools for easily restoring balance and your natural state of inner peace.
In this class we explore the spiritual function for each chakra:
Week 1 (July 1): Root Chakra - Feel safe and nutured with unconditional love
Week 2 (July 8): Sacral Chakra - Connect with creativity and practice letting go
Week 3 (July 15): Solar Plexus Chakra - Cultivate confidence and personal power
Week 4 (Juy 22): Heart Chakra - Cultivate forgiveness and self-acceptance
Week 5 (July 29): Throat Chakra - Express your Truth and align with Divine Will
Week 6 (August 5): Third Eye Chakra - Practice listening to your intuition
Week 7 (August 12): Crown Chakra - Connect to your Inner Wise One (Higher Self)
Wednesdays, July 1 - August 12, 2015
7:30pm ~ 9:00pm
| | | |
| --- | --- | --- |
| | | |
| Location: | | |
| | | |
7-Week Series

$210

Drop in
(In the Paypal notes, state the date of the class you plan to join)

$35
---